So. A little background, before the picspam! I've wanted to make a Disney casting picspam ever since I learned how to start using Photoshop, which was about five years ago. I'm not certain why I never got around to it; Lord knows I've made plenty of picspams in the meantime. Then,
pic_spammy was created at the close of 2012, launching with a Disney theme, which was just the push I'd needed. Now, making this picspam was doubly difficult for two reasons. One, I did not want this to be a White People as Everyone kind of picspam. I wanted to be sure to respect the characters' cultural heritages as much as possible. Second, I also wanted to stay true to the characters' ages as much as I possibly could. Disney's ladies range in age from fourteen to twenty at most, but due to Hollywood's insistence on having adults play teens, it was rather difficult to find age-appropriate actors who were also culturally appropriate. As it is, all but one of the actresses I've chosen are twenty-five and under, with the exception being twenty-eight. Anyway, I really enjoyed doing this and I quite like the end result; hope you do too!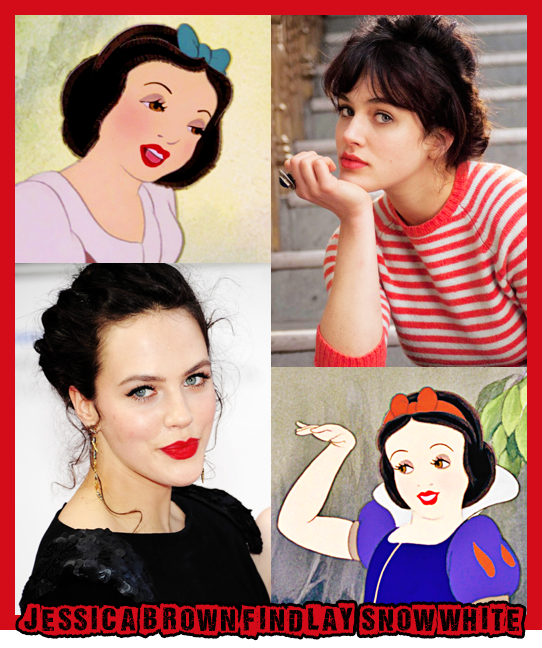 Snow was the most difficult role to cast! She's fourteen in the original movie, so I wanted to find an actress who was under twenty, but she also had to be pale, dark-haired, and exceptionally beautiful. I thought of Jessica early on, but I couldn't convince myself, and so I spent two weeks trying to talk myself out of Jessica, and now I don't know why. She's clearly perfect, or as perfect as any actress can be. She's gorgeous, pale, dark-haired, and she's adorable enough to be believable as a teenager.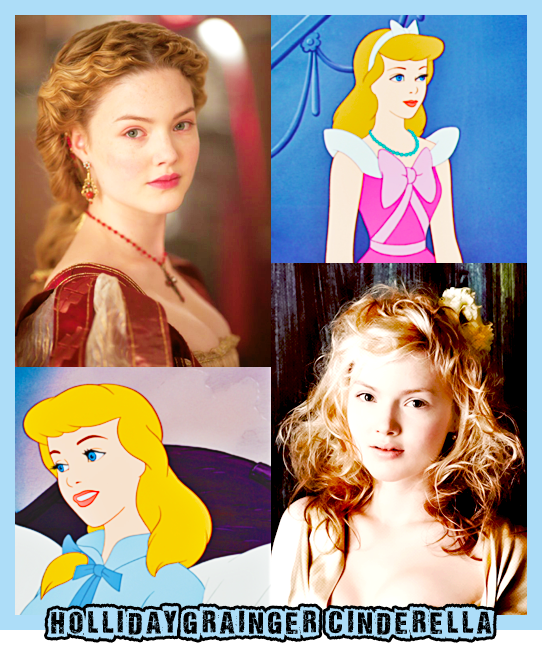 Cinderella is one of my least favorite princesses; I always thought her lifeless. Eventually I ended up creating my own canon for her where she is clever and sultry and attends the ball with the specific purpose of snagging a prince or rich nobleman in order to escape her life. I intend to write this spin-off someday. In any case, I feel like Holliday breathes life into a princess with very little personality, and she's got the regal bearing of a queen, as well as that perfect combination of innocence and devilishness required to play Cinderella.
I was originally going to go with Dianna Agron for Aurora, but she seemed a little too drab, and she is the popular choice for Aurora, so I wanted to go with something different. It didn't take me long to think of Freya. With her freckles and her not-so-straight teeth, Freya is real, and she is beautiful. She brings colour to another princess I'm not so keen on.
Very easy to cast! Obviously I needed a redhead, which limited my choices, but I didn't need to think for too long. Amy is the perfect choice for Ariel's bubbly, energetic personality.
Okay, so Emi is actually Japanese, but I don't know any young Chinese actresses, and I didn't want to cast any random actress. I've seen Emi in a few dramas, and she's pretty damn fantastic at subtly conveying various facets of emotion. She's also very intense, which is how I've always viewed Mulan.
For Pocahontas I knew I wanted an actress who was at least partly Native American, and I had almost forgotten about Q'orianka until I saw a
Princess Kaiulani
poster. Funnily enough, after I had cast her, I realized that Q'orianka actually played Pocohantas before, in
The New World
, which means I'm not the only one who thinks she's an insanely perfect fit, from her facial structure to her hair to her lips.
I'm actually still a little on the fence about Leila; I'm convinced there is someone better out there. Not that I don't adore Leila, I just don't think that she is perfect for the part of Jasmine. First off, by my standards, she's too old for the part, at twenty-eight years old. I can make her appeal to me if I try, and I think she could fit the part well, but I feel like there could be someone better if I keep looking. The lack of well-known actresses of Arab descent doesn't make it easy, though. Anyway, that's not to say Leila isn't a decent fit - she walks the line between girl and woman rather nicely, and she carries herself well.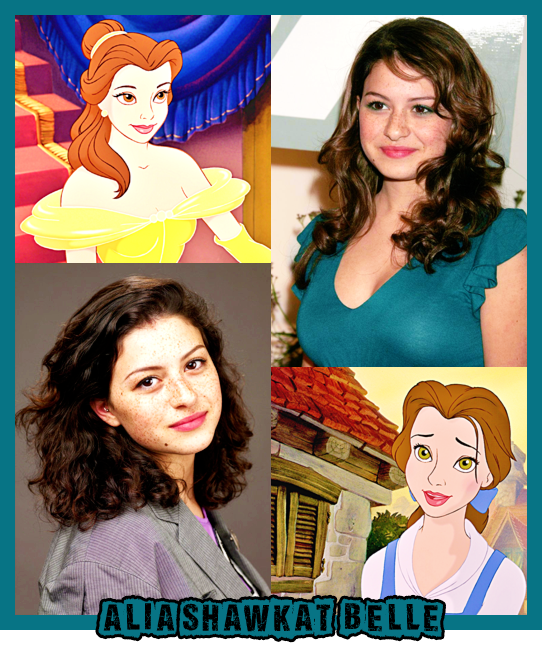 Alia came to me out of the blue, but I knew immediately that she was perfect. I had been vacillating between Lea Michelle and Oona Chaplin and leaning towards Oona, but Alia is a better fit than either of them. She certainly looks the part, especially with her figure and her hair, and she's very down-to-earth. I have no doubt that she would portray Belle's intellectualism very well.
This was a last-minute decision, but I couldn't be happier about it! Originally I was going to go with Zoe Saldana - I had the graphic made and everything. I wasn't one hundred percent happy with Zoe, because at thirty-two she was way too old to play nineteen-year-old Tiana, and she is also the popular choice. Then I remembered
Tru Jackson
and I looked Keke up, and it took me exactly three seconds to realize she was the perfect fit. Not only is she gorgeous, she's spunky and has a smile that lights up the world. Plus she's exactly nineteen, which makes me happy!
Easiest person to cast! She was also the first person I cast. I know Meg is not technically part of the Disney princess line-up, but she's my favorite ever and Phoeobe was such a perfect choice for her that I couldn't resist. From her cheekbones to her snarkiness to her voice to her unconventional beauty she embodies Meg more perfectly than anyone else I can imagine.